13 Apr

Spring Fling: Fall in Love with These Rhubarb Recipes
Local chefs share their favorite dishes using the bright red stalks.
Rhubarb is a spring vegetable, and like spring itself, its days are tantalizingly numbered. So grab a stalk or two while you can. "The redder the stem, the sweeter the rhubarb," says Kimberly McCune Gibson, chef and co-owner of Cultivate. "Go for brownish green if you want a little less sweet. It's not like a banana that ripens with time."
Rhubarb Ginger Fizz
"Rhubarb has almost a cranberry tartness that balances with a little sugar and blends with the strawberry well. Ginger brightens it up and gives you a nice zesty tang."
— Jacob Orosz, owner of the Fairmount Cocktail Bar
On medium heat, saute 6 stalks rhubarb cut into 1-inch pieces, 1 small piece of thinly sliced ginger and 1/2 cup simple syrup until soft. Process in food processer to further smooth out the mixture. Add 2 to 3 heaping spoons of compote mixture and 2 sliced strawberries to a cocktail shaker and muddle. Add 1 ounce of vodka and a handful of ice, hard shake and strain into a tall Collins glass. Add 3 slightly bruised mint leaves and top with a dry Champagne and ice. Garnish with a mint sprig and strawberry.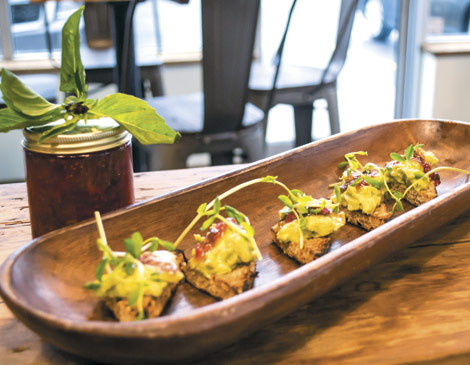 Rhubarb Bacon and Chili Marmalade on Avocado Toast
"Avocado takes on the flavor of whatever it's cooked with, so the sweet aspect of the rhubarb, saltiness of the bacon and the aroma of the garlic and ginger provide a little something different for avocado toast."
— Kimberly McCune Gibson, chef and co-owner of Cultivate and Hungry Bee
In a saucepot, combine 2 cups diced rhubarb, 2 cups diced red onion, 1 cup diced strawberries, 2 tablespoons minced ginger, 1 teaspoon minced garlic, 4 cups sugar, 2 minced Fresno chilies and 1 cup water. Bring contents to a boil and let simmer for 1 hour. When the hot marmalade has thickened, whisk in the following: 2 tablespoons rough chopped Thai basil, 1/2 bunch of rough chopped scallions, 1 tablespoon Sriracha, 1 tablespoon kosher salt and the zest of 1 lime. Finely chop 4 pieces of bacon and fold into marmalade. Chill overnight if possible. Toast 2 pieces of sprouted bread and cut off crusts. Cut into toast points and top with 1 fork-mashed avocado. Spoon marmalade over top.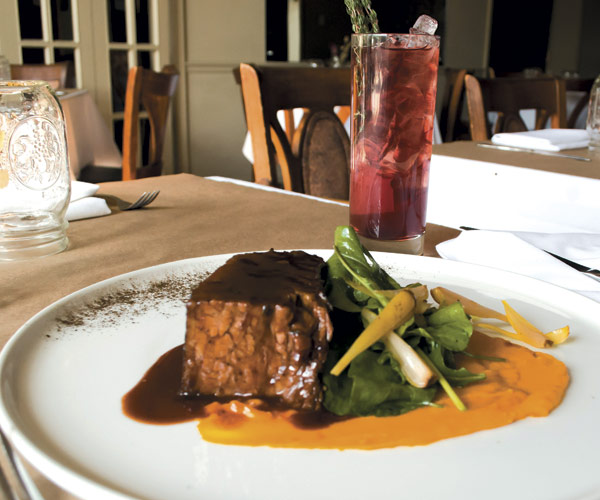 Rhubar-BQ Short Ribs
"Rhubarb works in barbecue because it's astringent and piquant and adds a cutting property to all the fat in short ribs."
— Ben Bebenroth, chef and owner of Spice Kitchen & Bar
Preheat oven to 300 degrees. Season 3 pounds of beef short ribs liberally with salt and pepper and dust with flour. Sear in oil on all sides and set aside on paper towels. Drain almost all of the oil off and saute 2 chopped carrots, 12 cloves of garlic, 4 stalks chopped rhubarb and 2 chopped onions until soft. Deglaze with 1 quart of red wine and reduce by half. Add 2 quarts beef stock and bring to a boil. Add the short ribs to a Dutch oven with 1 small bunch of thyme and 2 bay leaves and cover with the rest of the liquid. Firmly set the lid on and place in oven for 3 hours until fork tender. Remove the ribs and place on a plate to rest while you make the sauce. Take out the thyme and bay leaf and put all the solids into a blender with 1 quart of the braising liquid. Add 1 cup ketchup, 1 cup brown sugar and 1 cup cider vinegar. Blend until smooth and adjust the flavor with salt and pepper and a little vinegar, if you need more acidity. Warm the short ribs in the sauce and serve.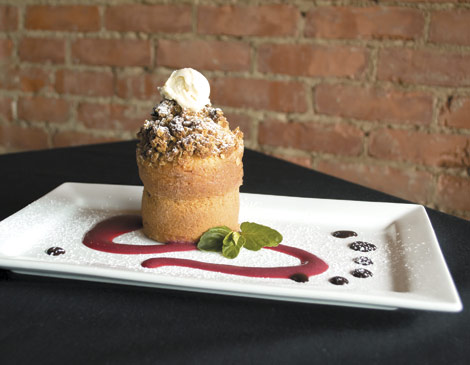 Warm Rhubarb Crisp Cake
"Rhubarb is so tangy and tart. The fleshiness of rhubarb and the tartness combine with the lightness of the cake and the sweet crunchiness of the crisp on top."
— Bridget Pond, pastry chef at the Standard
Preheat oven to 350 degrees, and butter and flour a 9-inch cake pan. Cut leaves off the top of a 1/2 pound of rhubarb and rinse with water. Cut into 1-inch pieces. Boil in 2 cups of water and a 1/2 cup sugar until soft. Strain and cool. Set aside. Combine 1 cup all-purpose flour, 1 cup quick oats, 3/4 cup brown sugar and 1 teaspoon cinnamon. Add 3/4 cup softened butter. Mix until crumbly. In the top of a double boiler, whisk 4 large eggs and 1 cup sugar. Heat to 110 degrees, whisking all the while, until it is thick and pale. In a sauce pan, combine 1/4 cup, plus 1 tablespoon milk and 1 tablespoon vanilla and heat on medium until warm. Pour slowly into egg mixture. Transfer to a medium bowl and fold in 1 cup sifted cake flour and 1/4 teaspoon salt. Fold in rhubarb. Pour into prepared pan and sprinkle crisp topping on top. Bake for 30 minutes. Let cake cool slightly, cut and serve topped with vanilla ice cream.